This is an opportunity for you to describe your character (and add artwork).

   How is he perceived by the common man?  What do only her friends and close confidants know about her?  Does he have a title?  Does she operate under one or more pseudonyms?
   Does he have a Cohort?  (Is that Cohort worthy of a page of its own?)  Does she have Followers?  Does he have notable Hirelings (or a great number of them)? 
   Where is her home?  What city (or other community) is his favorite?  What other communities does she regularly visit?  Does he have family, and is that relationship public or private?
   Is she part of a greater organization (guild / military order / noble family)?



Posts

: 71


Join date

: 2015-04-10



Brack, Master of the Alert Conscience.

   Brack is a half-Ork (human mother) in the prime of his life (which is to say, he just turned 15).  He has the greenish skin typical of most western ork-kin, and has shaved his head (this is traditional for many male monks).  Although possessing a brutish physique, he has developed a reputation for gentleness on the streets of Hlaungadath, especially in his dealings with the Small Folk.  He dresses in a simple (but well-constructed and very-magical) gi and sandals, and wears spectacles.  Unusually for a monk, he always wears a circlet around his bald pate; a few have seen this turn into a full-face helm without eyeslits.

   Brack claims no title, but does not object when called 'Master' (in reference to his status as leader of the Temple of the Alert Conscience) or 'Bearer' (in reference to the Staff of Order, better known as the Rod of Seven Parts).
   Brack is married to a Gnome Bard named Jandy (unusually, she claims no other name, nor do the pair claim any family name).  [Jandy is a complicated character and does much for the Heroes behind the scenes; she will be fleshed-out in her own article.]  Brack and Jandy have a single child, a boy toddler named Jock.  While mixed-race marriages are generally disapproved in Gnome society, Jandy maintains their household in a (rather large) burrow in a nice part of Hlaungadath's Undercroft (the 'undercity').  Brack is rarely seen there; he spends the majority of his time teaching and developing the Temple of the Alert Conscience across-town (where most of his Followers train).  Graduates of the Temple's training are accepted into the ranks of Brack's 4 military units; the Tigers, Monkeys, Cranes or Cobras.  These rotate in and out of combat; the Tigers have just returned from battle in the Eastern Dales and are recruiting replacements, while the other three units are taking their place and earning valuable combat experience.
   While Brack is settled rather firmly in Hlaungadath, he has an enduring soft-spot in his heart for Nulb and the Gnomes of the Backlands; it was the latter who took him in after he left the barbaric orcish society and nurtured his need for order.  He is also in the process of forging links with two other groups of Monks in the Greypeak Mountains, the newly-restored Dwarven-Gnomish Monastery of the Diamond Soul and what he claims are a small community of lawful orcs pursuing a monastic lifestyle!



Posts

: 71


Join date

: 2015-04-10



Shifty
Alexi never goes by his given name and it's unlikely anyone alive, not related to him even knows it. Shifty is a changeling but almost never returns to his normal appearance. Instead he has adopted an appearance for use with the party, which he defaults back to after any changing needed for missions.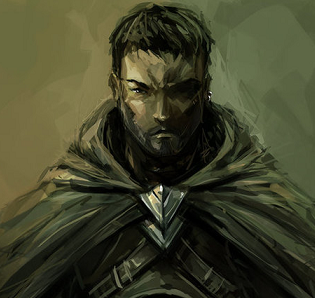 Shifty's current look with the party.
When it comes to the common people of the realms, Shifty is either completely unknown, or spoken of the same way we talk about bigfoot. At best a friend of your sister's cousin met a guy he thought was Shifty, but nobody ever knows that they met him. Stories about him run the gamut from creeping evil that strikes like a viper in the night to him being some sort of Batman-esque slayer of evil and champion of the common man. Of course most of the latter stories were created by Shifty to counter the whole "he's a monster" angle. Neither is correct though since shifty isn't committed enough to any ideal to be really good or bad. Instead he's just really committed to himself and his own desires.
Most people who know Shifty know that they don't really know him. Few know his first name, and even those that knew him longest have trouble telling which of his stories are true and which are fabrications. The biggest secret shared with his "friends" (they are but only as much as anyone is allowed to be his friend) is that he serves Leira and believes she's still alive. There is too much situational evidence that that is true for many to doubt it after breaking into the Mist Master's tower and entering Leira's pocket dimension within.
The other secret that the group knows about is that he is Ariel, captain of the Westgate city guard since they helped him in establishing that cover.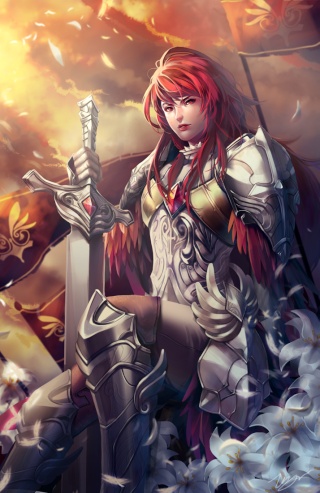 Ariel
Shifty doesn't own any titles. He has recently created a church and has been proselytizing across the realm but doesn't hold any official title within the church. Unofficially, the church's pope takes his cues from Shifty. Shifty views titles and organizational ties as the kind of weaknesses that could lead someone to him. As a faceless rogue with no strong ties to any individuals, countries, or cities, he's really hard to track down and he likes it that way. Additionally he needs the flexibility to disappear for periods of time without people noticing and titles infer attention which makes that kind of hard. That's why if he needs to be part of something he always uses a fake identity.
As of late Shifty has begun building up his forces so he has something to call on when things turn ugly, or he's just too busy to deal with a problem. He has a small contingent of simulacrum and a homunculus at his disposal. The homunculus sits around reading the leaves of the magic tree [insert name], and 4 simulacrum are acting as the patron saints of his religion (mostly spreading word of his religion, but occasionally taking care of a task for him). All have been changed via wish to better represent each role they were made for. He has been building a spy network based out of Westgate, but hasn't amassed much in the way of offensive units yet.
No one knows if shifty has family or a home anywhere, but if he does he rarely visits either to protect them, or to keep his past shrouded in secrets. The truth is that he does have a small family, but they've never been particularly close and as he's ventured into greater danger he avoids them to protect them from being killed or used as bait. His Family consists of a Father (Jorek), and two brothers (Boris his older brother, and Piro the younger).
Last edited by Toshi on Wed Sep 23, 2015 3:01 pm; edited 1 time in total (Reason for editing : minor correction of details)



Posts

: 12


Join date

: 2015-04-12



Born 22nd in line for a benign bid on the crown on Westgate, Evangeline "Evie" Frye grew up in the Cormyr/Sembia borderlands as the first child of Margrave Ethan and Margravine Cecily Frye. When she was 11, she joined her father for a business trip to the Cormyrian port city of Dawngleam and wandered away while her father was talking to his business partner. She snuck out to the docks of the city to take a look around at the tall-masted sailing vessels. A couple of brigands snuck up behind her and knocked her out. When she awoke she was in a slave pen on a vessel out at sea. Eventually the vessel made it's way to the River Lis and the slaves were transported to a large flat bottomed boat to make the passage through the dank swampy river. After the passage through the river, they we're transferred to another sea-going vessel and taken across the Moonsea to the city of Hulberg in the Great Gray Land of Thar. She doesn't remember much about Hulberg just that she was auctioned off as a part of lot of slaves and was taken in shackles with the rest of the slaves up into the Galenas.
Her early memories of the assassin's guild are cloudy but she remembers breathing in an acrid smoke and brutal beatings. She was one of the few survivors, having to kill many of the other slaves in her training. She quickly grew as an assassin, subsumed by the brainwashing they fed her. She eventually became a full-fledged assassin for the guild and worked her way through the ranks. After attaining Master Assassin status, she is tasked with heading west and evaluating the other assassin guilds.
She arrives in Westport and makes contact with the Fire Knives. Disguising herself as a prospective assassin for their order, they task her with assassinating a man who is a minor nuisance to their plans in Cormyr and that they need her to confirm the kill. They mention that he will be at a masquerade party and they describe his outfit. She stealthily makes her way into the masquerade ball gaining entry through an open window on an upper story and staying to the rafters. She found her target and studied it momentarily, tailing her target until he moved out to a veranda. She followed, staying above him. Her moment to strike came and she made sure her hood was pulled down and triggered her hidden blade as she leapt down on top of her quarry. She sank the blade into her target's heart and he died instantly.
Before her a vision of the man appeared to her wearing a suit of fine silk. He pushed her hood back and caressed her cheek. "My daughter Evangeline, my dear little Evie, you have returned to me after so long. You've grown into such a fine beautiful woman but I see that your heart has been clouded by potent external forces. We have missed you so much since you left, your mother, your brother and sister and I. You are so strong and it is time to stand up for yourself and take your life into your own hands. Goodbye my daughter, I hope that this encounter will help you return to the right path." The vision faded before her and she returned to the world no time having passed.
A scream pierced her ears and she scrambled up. Running to the railing on the veranda, she leaps off and lands in a cart of hay. She scrambles off the cart and heads down an alley, keeping to the shadows. She finds herself on top of the tallest tower, water leaking from her eyes for some unknown reason. Someone clears their throat and Evie turns to find a tall beautiful woman with fiery red hair and silver armor. "My name is Ariel and we need to talk," she says.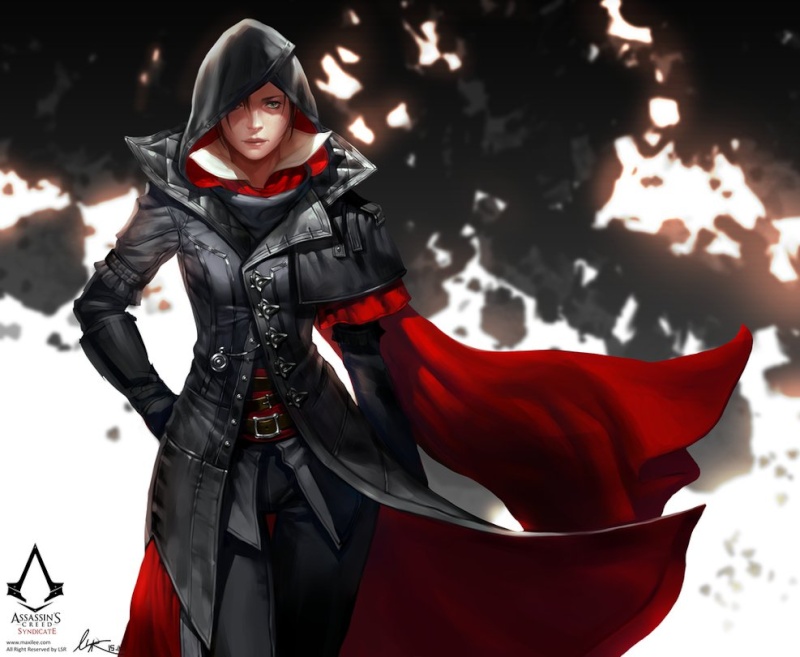 Admin




Posts

: 22


Join date

: 2015-04-09





Similar topics
---
Permissions in this forum:
You
cannot
reply to topics in this forum